Books
Funds generated from the sale of the collectibles are used to fund the expenses of this website. All autographed Items are hand-signed, authentic, and will come with a letter of authenticity. The position of the autographs on the photos will vary, all are offered In limited quantity.
Review Cart/Check Out
#211 Autographed copy of the book "Return of the Enola Gay" autographed by those who are referenced In the book. Paul Tibbets, Dutch Van Kirk, Morris Jeppson, Dick Nelson, Charles Albury, and Dora Dougherty. A very limited offering.

$195.00 add 10.00 Shipping - Buy Now

#221 In Harm's Way - Possibly the best book written on the sinking of the USS Indianapolis. I managed to acquire a small quantity of new books. These have been out of print since 2001. This book answers the questions of why the Navy failed to realize the ship was missing, why the news of the sinking was hidden from the public, Why It was travelling In unescorted waters, how the 317 men survived. I was honored to assist and encourage Doug Stanton with the publishing of his book. Autographed by Survivor Mike Kuryla. Sorry personalization Is not available.

$50.00 plus 5.30 Shipping - Buy Now

#222 The 509th Remembered If there ever was a book that is a must for everyone interested in the history of the 509th Composite Group, this is it! Here is the complete history of America's atomic bomb missions during WWII as told through the personal reminiscences and photos of the 509th veterans themselves. It was created by Robert Krauss, the Reunion Chairman of the 509th Composite Group and was made available to the attendees of the 58th reunion of the 509th that was held at the National D-Day Museum in New Orleans in October.

#235 "My True Course" - 600 pages, 105 photographs, excellent biography of Dutch Van Kirk, his life from his boyhood home In Northumberland, Pa. to Hiroshima navigating the Enola Gay. Autographed, comes with a photograph of Dutch autographing the book. This Is a very limited time offer.

$65.00 add $8.95 for shipping - Buy Now
Visit Our Collectibles section for a selection of rare and unique historical items that are not available anywhere else.
more...
---
509th Newsletter
Fall 2016
more...

---
Observations on
"Killing the Rising Sun"
more...

---
---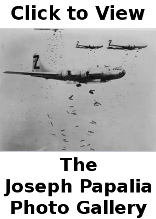 ---
509th Veterans & families Outstanding Unit Award more...
Los Alamos-Life on the Hill by Larry Johnston
more...
Paul Tibbets Interview by Studs Terkel
more...
Dropping The Atomic Bomb - By Richard Russell
more...
---

For autographed copies of Dutch's book "My True Course" please go to the collectible page to order.

The Forum is a great place to discuss the Enola Gay, the 509th and the historical perspectives surrounding these world changing events.
more...
---
Limited Time FREE SHIPPING Offer
The 509th
Remembered



Here is the complete history of America's atomic bomb missions during WWII