Ready to Frame Prints
Funds generated from the sale of the collectibles are used to fund the expenses of this website. All autographed Items are hand-signed, authentic, and will come with a letter of authenticity. The position of the autographs on the photos will vary, all are offered In limited quantity.
Review Cart/Check Out
#401 Autographed color lithograph depicting the USS Indianapolis, exploding In the Philippine Sea at 12:14 a.m. July 30, 1945 after delivering the first Atomic Bomb to Tinian to be dropped by the Enola Gay on August 6th, 1945. The lithograph has been boldly autographed by three Survivors. Edgar Harrell USMC, Ensign Harlan Twible, Officer and Michael Kuryla, Coxswain.
Double matted & shrink wrapped for standard size frame 16 x 20

$150.00 $15.00 Shipping - Buy Now

#413 Autographed 8 x 10 Color Photo of Paul Tibbets (on left) and Ted "Dutch" Van Kirk. The photo has been reproduced from an original color slide taken on Tinian by George Staley. The photo was taken Immediately after the return of the Enola Gay From the Atomic Bombing of Hiroshima. Paul Tibbets has just been awarded the Distinguished Service Cross which can be seen on his right side of his Flight Suit. The photograph has original autographs of both men. Limited quantity available.
Double matted and shrink wrapped to fit In standard size 12 x 16 frame

$250.00 $10.00 Shipping - Buy Now

#414 Autographed 5 x 7 photograph of Thomas Ferebee Bombardier on board The Enola Gay, Aug. 6, 1945 to Hiroshima. The Image size Is 4-1/4 x 5-1/4 Inches tall. A very rare Image of Maj. Ferebee autographed shortly before his death. 1 of 20 autographed. The photo Is mounted with a color copy of his last will and testament 7-1/2 x 11-1/2 signed March 31st 1945 shortly before leaving for Tinian. The copy is one of 4 made from the original will In our possession (hard to tell It's a copy, looks very good) both Items mounted with a 20th Air Force patch and Bombardiers wings (reproduction).
Double matted to go Into an 18 x 14 standard size frame of your choosing, a very historic grouping.

$295.00 $15.00 Shipping - Buy Now
Visit Our Collectibles section for a selection of rare and unique historical items that are not available anywhere else.
more...
---
509th Newsletter
Fall 2016
more...

---
Observations on
"Killing the Rising Sun"
more...

---
---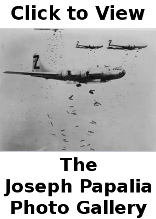 ---
509th Veterans & families Outstanding Unit Award more...
Los Alamos-Life on the Hill by Larry Johnston
more...
Paul Tibbets Interview by Studs Terkel
more...
Dropping The Atomic Bomb - By Richard Russell
more...
---

For autographed copies of Dutch's book "My True Course" please go to the collectible page to order.

The Forum is a great place to discuss the Enola Gay, the 509th and the historical perspectives surrounding these world changing events.
more...
---
Limited Time FREE SHIPPING Offer
The 509th
Remembered



Here is the complete history of America's atomic bomb missions during WWII