Glenn Miller And His Effect On
The Troops In WWII

---
On December 15, 1944, a single engine UC-64 Norseman USAAF aircraft taking off from RAF Twinwood Farm, near Bedford, England, disappeared over the English Channel never to be heard from again. On board among the three servicemen was Major Glenn Miller. Miller was going to Paris to make plans to move his entire band there. Miller and his orchestra were tremendously popular in the USA and abroad in the late thirties and early forties with his unique sound and style. With the outbreak of World War Two, in 1942, too old to be drafted, he tried to join the US Navy, but was rejected. After applying for duty with the US Army, he was accepted and later transferred to the USAAF. From 1942 until 1944, the Miller band performed in England as both a marching band and as the Glenn Miller Orchestra, so popular to the many servicemen and women on both sides of the continent as well as the English and other nations. Although Miller had never performed in the Pacific theater, Tokyo Rose would include his music in her propaganda broadcasts to allied forces in the Pacific. Many an airman, returning from Missions over Japan would listen to his music, including that of Tommy Dorsey, Artie Shaw and Sammy Kaye as well as keeping up with the latest baseball scores. Today, the Glenn Miller sound can still be heard from oldie radio stations and bands that still copy his unique style. To honor his memory, a bust outside the Corn Exchange, Bedford, England was erected where Miller played in World War II.
---
Visit Our Collectibles section for a selection of rare and unique historical items that are not available anywhere else.
more...
---
509th Newsletter
Fall 2016
more...

---
Observations on
"Killing the Rising Sun"
more...

---
---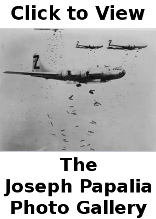 ---
509th Veterans & families Outstanding Unit Award more...
Los Alamos-Life on the Hill by Larry Johnston
more...
Paul Tibbets Interview by Studs Terkel
more...
Dropping The Atomic Bomb - By Richard Russell
more...
---

For autographed copies of Dutch's book "My True Course" please go to the collectible page to order.

The Forum is a great place to discuss the Enola Gay, the 509th and the historical perspectives surrounding these world changing events.
more...
---
Limited Time FREE SHIPPING Offer
The 509th
Remembered



Here is the complete history of America's atomic bomb missions during WWII