Appearances
Please email us to verify appearances 72 hours (3 days) before making plans to
meet the Veterans at any future events. Appearances are based upon health conditions at time of show.
---
February 22nd-25th, 2018
Show Of Shows Military Collector Show
Kentucky Expo Center, Louisville, Ky.
William A. Robinson, one of the longest surviving POW's, was imprisoned when his helicopter was shot down and all on board were taken prisoner. He would endure 7 years and 5 months of captivity, the longest internment in US military history of an enlisted man. He was transported to what was known as the "Hanoi Hilton Prison". William will be with us in our booth at the show each day Fri-Sat, books and photographs will be available for autographing please contact us for more information or visit www.sosovms.com.
---
May 4th-6th, 2018
NRA Annual Meeting and Exhibits
Kay Bailey Hutchinson Convention Center, Dallas, Texas
The National Rifle Association and North Carolina Arms have invited us to take part In this year's 147th NRA Annual Meeting and Exhibits to be held at the Kay Bailey Hutchinson Convention Center Dallas, Texas our exhibit this year will honor the Veterans of the 509th Composite Group by displaying the flight suit worn on both atomic missions by Captain Charles Albury, as pilot of the B29 "The Great Artiste", August 6th to Hiroshima, and August 9th, the B29 "Bockscar" to Nagasaki. Norris Jernigan, 393rd Bomb Squadron (VH), 509th Composite Group, Intelligence, will be In our booth autographing books and photographs. For more information please contact us or go to www.nraam.org
---
Check back soon for more upcoming events!
Appearances are based on health at time of appearance so please check with us 72 hours before the show If you have a concern. We do not answer inquiries 24 hours prior to and during events.
Thank you,
Robert Krauss

Can't attend either event. Contact us to place an order for a book or photo autographed by these great men. rwkrauss@hotmail.com

Visit Our Collectibles section for a selection of rare and unique historical items that are not available anywhere else.
more...
---
509th Newsletter
Fall 2016
more...

---
Observations on
"Killing the Rising Sun"
more...

---
---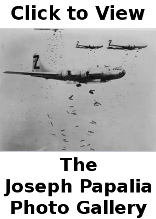 ---
509th Veterans & families Outstanding Unit Award more...
Los Alamos-Life on the Hill by Larry Johnston
more...
Paul Tibbets Interview by Studs Terkel
more...
Dropping The Atomic Bomb - By Richard Russell
more...
---

For autographed copies of Dutch's book "My True Course" please go to the collectible page to order.

The Forum is a great place to discuss the Enola Gay, the 509th and the historical perspectives surrounding these world changing events.
more...
---
Limited Time FREE SHIPPING Offer
The 509th
Remembered



Here is the complete history of America's atomic bomb missions during WWII